Cartas accidentales
Correspondencia entre Pepe Smith y Mohamed durante el transcurso de esta semana.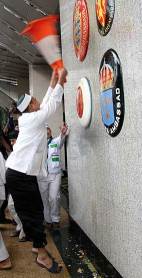 Querídisimo Pepe Smith:
Te escribo para intercambiar impresiones a colación del terrible acto de barbarie religiosa cometido por la civilación occidental al caricaturizar a nuestros ídolos sagrados, que como sabes no son representables. La comunidad islámica se ha visto forzada a protestar por dicho acto luchando con todas las armas disponibles contra vuestras embajadas (te adjunto fotografía -->).
¿Y sabes por qué no se pueden dibujar? Porque Alá es grande, y Mahoma es grande, ni siquiera cabrían en un dinA3 o A2. Cuando representáis a nuestras deidades en vuestras caricaturas lo que estáis haciendo es "reescalándolos", cambiándoles su resolución, interpolando sus componentes para conseguir una representación más pequeña, perdiendo calidad. La única forma de representación digna sería a una hipotética escala 1:1 en un papel tan enorme que solo Alá podría abarcarlo.
Para que te hagas una idea de la gigantesca burla hacia nuestros sentimientos religiosos que suponen vuestros chascarrillos periodísticos te envío algunas viñetas dibujadas por mis compañeros durante el recreo que tenemos entre las clases con el Sim Train y el Subway Tycoon, en nuestro centro de entrenamiento de Kandahar.

Atentamente,


Mohamed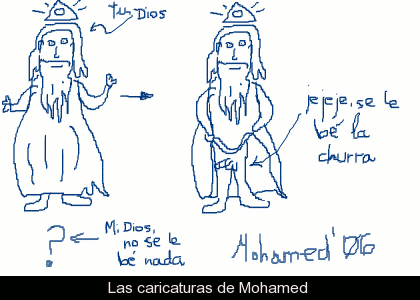 Estimado Mohamed:
Lamento comunicarte, y no es opinión personal sino tan sólo un triste reflejo de la realidad, que al occidental medio le importan una mierda tu dios y el suyo propio. No puede más que entristecerme el hecho de que vuestros iconos sean tan grandes que no se puedan representar. Las enorme posibilidades en cuanto a marketing de unas imágenes portátiles como las nuestras permiten enriquecerse a entidades tan venerables como el Vaticano o la cadena COPE. Desconozco las razones técnicas de poder representar a la Virgen en un llavero sin que se considere una herejía, pero presupongo que los cristianos disponemos de gráficos vectoriales escalables de nuestros iconos divinos -quizá proporcionados por el mismo Dios-, que no pierden calidad (ni sus divinas proporciones) al condensarse en pequeños souvenires.
Vuestros representantes espirituales, además, deberían proponerse nuevas ediciones coránicas, con divertidas y coloristas ilustraciones que hiciesen más amena la lectura de dicho libro sagrado. Las posibilidades del islam son enormes y están siendo, en mi humilde opinión, desperdiciadas.
Noto además en vuestra idiosincrasia religiosa una ausencia imperdonable de obras cinematográficas que hagan referencia al tema. Una película sobre la vida de Mahoma y sus peripecias con Alá darían a conocer al mundo a tan ilustre personaje, difundiendo su fama a escala mundial y haciendo un lavado de cara (con velo si así lo preferís) a vuestra religión. Encontramos múltiples y exitosos experimentos en el bando cristiano como son Jesucristo Superstar, Los Diez Mandamientos o La Pasión de Cristo que elevaron la cuota de popularidad de Jesús hasta límites insuperables, sobrepasando incluso la figura de Beckham.
Si aún así seguís encontrando que en formato panorámico tampoco caben las representaciones de Mahoma, podéis recurrir a técnicas digitales como borronear el rostro del actor, usar una voz en Off, o filmar la película en primera persona, como si de un videojuego shoot'em all se tratara.
Siempre tuyo,

Comentarios:
juanra el 6/2/2006 - 14:44
no si tranki ke a este paso acabamos todos en una nueva cruzada pa liberar jerusalem.eso si,encabezada por ratzinger pa ke se lo carguen a el primero.
rucito (rucito at mac dot com) el 7/2/2006 - 07:02
No sé a cuento de qué no se pueden representar las deidades en distintos soportes. Con la clase que dan el San Cristóbal en el coche, la efigie de la Virgen en el llavero, el Sagrado Corazón en el azulejo sobre la puerta con la leyenda "Dios bendiga cada rincón de esta casa", etc...
Deberían jugar más con los lápices y menos con las cerillas.
En cuanto al cine, no nos olvidemos de obras maestras tales como "La vida de Brian" o "Marcelino Pan y Vino".
thessoro (thessoro at gmail dot com) el 7/2/2006 - 07:40
si, creo que la vida de brian ha llevado a muchos ateos convencidos a una creencia fanática. xD
Eso es, más lápices y menos cerillas, y por tanto más sacapuntas para dichos lápices. (veo el negocio... lo veo!)
KAREN (TECALCO at HOTMAIL dot COM) el 8/2/2007 - 21:14
xiaojun (xjd7410 at yahoo dot com) el 17/10/2016 - 13:44
LZM el 20/10/2016 - 11:48
Just what is actually a blue pills and exactly what can this provide for watch this video guys? This is actually a muscle mexica movement depressant and a blood useful source stimulant for men that experience erection problems, many generally referred to as impotency. When the guy is actually intimately activated, this is actually a problem whereby blood in the penis is certainly not enough to produce erection even.
leilei3915 (linlei3915 at hotmail dot com) el 1/4/2017 - 15:01
cialis 10 mg Cialis (tadalafil), presented in 2003, is one of the most famous names amongst the range of medicines made use of for treating erectile disorder. Erectile dysfunction, also known as impotence, is a typical kind of sexual problem among the UK males as well as is found to take place most frequently among older males (40-70 years). Impotence happens most frequently due to physical difficulties, consisting of cardio problems, high blood sugar, blood stress kidney, liver or problem conditions and also arterial disorder.
tadalafil generic, cialis price
on yahoo (koleri4h at gmail dot com) el 22/4/2017 - 02:24
Autor: thessoro
Fecha: 04/02/06 [09:29]
Categoría: Actualidad
Leido: 32774 veces
Artículos relacionados
Mahoma y Google
Últimos artículos de su categoría